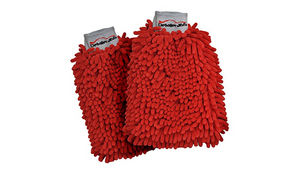 Detailer 365 is a retailer of the best Care Care products we can source. We used years of insight into the industry to develop a line of products that beats everything we've tried so far. This is no exception with our custom microfiber wash mitts. Prototype after prototype, we left out the features that didn't work and enhanced the ones that did.
We're proud to release the final product. When it comes to detailing, every detail matters, and the glove is no exception. Wash with the best at Detailer 365.
SUPER SOFT - We prototyped for months to make sure our microfiber was as soft as possible and that the seamless edges are sewn perfectly. Quality materials and construction results in a scratch-free wash.
DOESN'T COLLECT LINT - Being able to freshen up your car before any adventure is key. Our microfiber won't attract lint build-up so you can confidently slip it on and get to work.
ABSORBENT - Holds lots of moisture or oils so that with the right solution, you can move quickly and efficiently without leaving streaks.
TOUGH - Built to last through hundred of washes. The elastic wrist bad won't wear out and the microfiber arms are reinforced.
THE LAST MITT YOU'LL NEED. Once you try the Detailer 365 wash mitt, you'll know why not all wash mitts are created equal. We sought to improve the design of every mitt we've tried, and extensive testing proved we were successful.
Join the Discussion
---
Share this Product