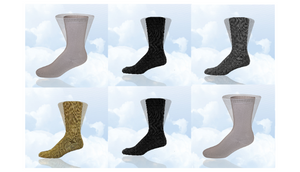 SMALL: Fits Women's Shoe Size 5 - 8.5 | Men's Shoe Size 4 - 7.5
MEDIUM: Fits Women's Shoe Size 9 - 12.5 | Men's Shoe Size 8 - 11.5
What you'll receive: 6 Assorted Pairs of Diabetic Socks (May differ from the socks pictured.)
Simcan is a family run business dedicated to the health of your feet.
For over 25 years they have been producing socks that are designed to be worn safely by those with Diabetes and other health conditions that impact the foot and lower leg.
Their goal is and always has been to produce health conscious socks that are not only safe to wear but that provide the highest level of comfort and quality possible.
Wear Simcan socks with confidence!
Join the Discussion
---
Share this Product