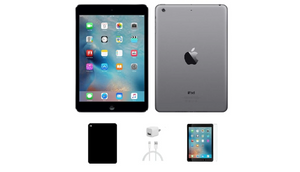 Editor's Note: These Apple iPad Mini 2's are Refurbished and come with our 30 Day Warranty! You may see some light marks on the body of the unit. This will not impede the operation/view of the iPad. Rest assured your savings will be well worth it's "Refurbished" status... ;)
This iPad comes standard with iOS 7.0 and can be upgraded to iOS 11.3. Apps designed for iOS 11.4 or better may not be compatible with this device.
A bigger screen than a smartphone, yet smaller and more convenient than a laptop. Don't let the in-between size of this mini tablet fool you because this powerful little device boasts some serious computing chops in a sleek-designed package. The Apple iPad mini 2 offers a stunning 7.9" Retina display with over 3.1 million pixels, so photos and videos look incredibly detailed and text is razor-sharp.
The device features a powerful and power-efficient A7 chip with 64-bit architecture, so its remarkably responsive. The iPad mini 2 also offers ultrafast wireless, iSight, and FaceTime HD cameras, and includes some awesome apps like iPhoto, iMovie, Garage Band, Pages, Numbers, and Keynote. All this, and it still fits easily in one hand.
Retina Display
The Retina Display provides 4 times more pixels and 44% greater color saturation than the iPad 2. Within the 7.9" LED-backlit touchscreen, the 2048 x 1536 native resolution render text and images at 326 pixels per inch and a total of over 3.1 million pixels. The display also features a fingerprint-resistant oleophobic coating for increased resolution during use
Dual-Core A7 Chip
Thanks to the A7 chip, apps run faster on the iPad mini 2. Games are more responsive and everything you do with the iPad mini 2 feels quicker. It's up to four times quicker than the previous-generation iPad mini 2. It also supports OpenGL ES version 3.0, enabling detailed graphics and visual effects once only possible on desktop computers and game consoles. And the A7 chip features 64-bit architecture, opening the door for even more robust and powerful apps
M7 Coprocessor
The iPad mini 2 was designed to be on the move. That's why the M7 coprocessor measures motion from your iPad mini 2 by pulling data from the accelerometer, gyroscope, and compass. This allows your apps to give you a better experience based on the movement of your iPad mini 2. It's a task that would normally fall to the A7 chip. But M7 is more efficient at it, which saves on power and opens up the A7 chip to focus on other tasks
802.11a/b/g/n Wi-Fi
With twice the Wi-Fi performance, thanks to two antennas and MIMO (multiple-input multiple-output) technology, the iPad mini 2 can reach download speeds of up to 300 Mbps. With dual-band (2.4GHz and 5GHz) 802.11n Wi-Fi and MIMO, that's double the data rate of the previous-generation iPad mini 2. So now when you want to download a movie, share photos or documents with AirDrop, or just browse the web, your connection is even faster than before
FaceTime HD Camera
Sometimes it's nice to put a face to the conversation. And with FaceTime video calls on the iPad mini 2, your conversations look better than before. Make a video call over Wi-Fi or cellular and see (or show) every expression on the beautiful display. Now the FaceTime HD camera features a next-generation backside illumination sensor with larger pixels, which brightens up all your FaceTime chats, selfies, and group Photo Booth shots, even in low-light situations
5-Megapixel iSight Camera
The 5-megapixel iSight camera on iPad mini 2 was designed to help you capture all of life's moments at a moment's notice. Use the Retina display as an easy viewfinder to frame the perfect shot. Quickly swipe between capturing stills or 1080p Full HD video. Every time you shoot, the image signal processor in the A7 chip works with the camera to make a ton of adjustments and deliver a great picture or video automatically
iCloud
iCloud functions as a wireless service for you to keep all of your iOS & Mac devices in sync. You can also backup content to iCloud and restore to a previous backup from iCloud as well
Siri
Siri lets you use your voice to send messages, schedule meetings, check the latest scores, and more. Ask Siri to do things just by talking. Siri understands what you say, knows what you mean and even talks back
AirPlay
AirPlay functions off of the wireless capabilities of the iPad mini 2 and allows you to seamlessly watch or listen to your content on your HDTV. When connected to the same wireless network, content can be controlled from the iPad mini 2 and ported through or watched on auxiliary devices
Audio Playback
Frequency response: 20Hz to 20,000Hz Audio formats supported: AAC (8 to 320 Kbps), Protected AAC (from iTunes Store), HE-AAC, MP3 (8 to 320 Kbps), MP3 VBR, Audible (formats 2, 3, 4, Audible Enhanced Audio, AAX, and AAX+), Apple Lossless, AIFF, and WAV
Video Formats Supported
H.264 video up to 1080p, 30 frames per second, High Profile level 4.1 with AAC-LC audio up to 160 Kbps, 48kHz, stereo audio in .m4v, .mp4, and .mov file formats; MPEG-4 video up to 2.5 Mbps, 640 by 480 pixels, 30 frames per second, Simple Profile with AAC-LC audio up to 160 Kbps per channel, 48kHz, stereo audio in .m4v, .mp4, and .mov file formats; Motion JPEG (M-JPEG) up to 35 Mbps, 1280 by 720 pixels, 30 frames per second, audio in law, PCM stereo audio in .avi file format
Language Support
English (U.S.), English (UK), Chinese (Simplified), Chinese (Traditional), French, German, Italian, Japanese, Korean, Spanish, Arabic, Catalan, Croatian, Czech, Danish, Dutch, Finnish, Greek, Hebrew, Hungarian, Indonesian, Malay, Norwegian, Polish, Portuguese, Portuguese (Brazil), Romanian, Russian, Slovak, Swedish, Thai, Turkish, Ukrainian, Vietnamese
Keyboard & Dictionary Support
English (U.S.), English (Australian), English (Canadian), English (UK), Chinese - Simplified (Handwriting, Pinyin, Stroke), Chinese - Traditional (Handwriting, Pinyin, Zhuyin, Cangjie, Stroke), French, French (Canadian), French (Switzerland), German (Germany), German (Switzerland), Italian, Japanese (Romaji, Kana), Korean, Spanish, Arabic, Bulgarian, Catalan, Cherokee, Croatian, Czech, Danish, Dutch, Emoji, Estonian, Finnish, Flemish, Greek, Hawaiian, Hebrew, Hindi, Hungarian, Icelandic, Indonesian, Latvian, Lithuanian, Macedonian, Malay, Norwegian, Polish, Portuguese (Portugal), Portuguese (Brazil), Romanian, Russian, Serbian (Cyrillic/Latin), Slovak, Swedish, Thai, Tibetan, Turkish, Ukrainian, Vietnamese
Siri
English (U.S., UK, Canada, Australia), Spanish (U.S., Mexico, Spain), French (France, Canada, Switzerland), German (Germany, Switzerland), Italian (Italy, Switzerland), Japanese, Korean, Mandarin (Mainland China, Taiwan), Cantonese (Hong Kong)
Viewable Document Types
.jpg, .tiff, .gif (images); .doc and .docx (Microsoft Word); .htm and .html (web pages); .key (Keynote); .numbers (Numbers); .pages (Pages); .pdf (Preview and Adobe Acrobat); .ppt and .pptx (Microsoft PowerPoint); .txt (text); .rtf (rich text format); .vcf (contact information); .xls and .xlsx (Microsoft Excel)
Accessibility
A VoiceOver screen reader, Guided Access, Switch Control, support for playback of closed-captioned content, AssistiveTouch, full-screen zoom magnification, larger type, bold text, increase contrast, reduce motion, on/off labels, invert colors, left/right volume adjustment
Built-in Apps
Safari, Mail, iBooks, Photos, Maps, FaceTime, Newsstand, Messages, iTunes Store, App Store, Calendar, Music, Videos, Siri, Reminders, Contacts, Camera, Notes, Photo Booth, Clock, Game Center
Free Apps from Apple
Available for free from the App Store: iPhoto, iMovie, GarageBand, Pages, Numbers, Keynote, iTunes U, Podcasts, Find My Phone, Find My Friends, Remote, iTunes Trailers
Condition:
Features:
16GB
7.9" LED multi-touch IPS retina display
2048 x 1536 native resolution
Dual-Core Apple A7 CPU with the M7 chip
802.11a/b/g/n Wi-Fi, Bluetooth 4.0
Front 1.2-megapixel FaceTime HD camera
Rear 5-megapixel iSight camera
Lightning connector, AirPlay mirroring
Gyro, accelerator, ambient light sensor
A7 chip with M7 motion coprocessor
iPhoto, iMovie, Garage Band, Pages, Numbers, and Keynote apps included
Over 475,000 apps on the App Store
Available in space gray 
Please Note: iPad Mini 2 Maximums iOS Support is iOS 12.x
What you get:
One [1] iPad
One [1] Tempered Glass
One [1] Case
One [1] Charger
Join the Discussion
---
Share this Product