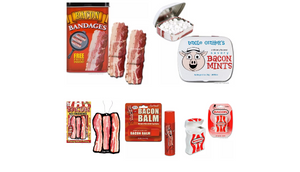 Get your guy (or kids!) interested in grooming with this fun kit!
This deluxe set includes our most popular bacon bath & body products in one delightful set! Makes a great gift!!
SET INCLUDES:
(1) Bacon Bandages - Bacon Strips Band Aids (15 sterile strips).
There's nothing better for fixing your boo boos than Bacon Bandages! Bacon Strips bandages are cut to look like small slabs of bacon (with absorbent non-stick pad and long-lasting adhesive).
(1) Bacon Air Freshener - Sizzling Bacon Scent.
That's right, we've captured the enticing aroma of sizzling bacon in an air freshener! Each one measures about 4" (10.2 cm) and comes with a string for hanging (perfect for your car or gym locker).
(1) Bacon Mints - Bacon Flavored Breath Mints (.7 oz tin).
Keep your breath BACON fresh!! Each one of these mints tastes like a delicious slice of crispy bacon with just a hint of mint flavor to give it that extra punch! It may sound weird but once you taste it, you'll see that mint and bacon is a match made in Heaven!
(1) Bacon Floss - Bacon Flavored Waxed Dental Floss (2.73 yards).
Dentists recommend flossing and we recommend bacon! Now you can improve your dental hygiene while enjoying the amazing flavor of crispy fried bacon. Is there anything bacon can't improve? Effectively removes plaque and leaves mouth BACON fresh!
(1) Bacon Lip Balm - Bacon Flavored Chap Stick (4.5 g oz twist tube).
Keep your lips from chapping while reminding yourself why bacon is the KING of meats! Just carry around a tube of this Bacon Lip Balm and you can keep your lips moist and meaty around the clock.
It's a bacon bonanza! Makes a great GIFT!
Join the Discussion
---
Share this Product