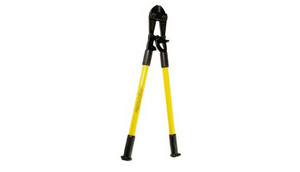 The heat-treated cutting edges of the BoltMaster series are the finest available anywhere. Lightweight and durable, each tool's head features a tension adjustment that allows precision tuning for maximum cutting effectiveness.
Features:
Electrically nonconductive fiberglass handle system is resistant to 100,000 volts AC
Safety-guard handgrip reduces the possibility of operator's hands slipping onto working end of tool
For use on security chains, chain link fences and non-case-hardened locks
Jaw opening: 3/8"
Length: 18"
Weight: 5.15 lbs.
Join the Discussion
---
Share this Product