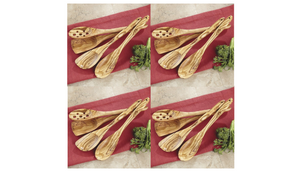 Nothing compares to the natural beautiful grain, durability and easy-hold grip of CHEFS olive wood tools. Safe for nonstick cookware, substantial, heat-safe wood stirs ingredients right in the pan. Durable kitchen cooking utensils will not scratch porcelain, ceramic or enamel interior. Premium olive wood utensils excel in smooth design and functionality. Durable to fold ingredients into heavy batter or stir scrambled eggs, rice or pasta in a pan. 
With the strikingly rich grain, CHEFS olive wood tools are attractive serving utensils on the table. Perforated spoon drains liquids and is the perfect serving tool for vegetables or salads. Blunt-end spoon stirs sauce, gravy or roux, preventing scorching. Excellent tool to scrape sides and bottom of pan and ensure all bits dissolve while deglazing. Spatula spoon combines multiple uses of a solid spoon, with a slightly-curved end to scrape mixing bowl or pan. A staple in gourmet kitchens, the solid spoon is the culinarian's choice to stir sauce, soup, stew or bisque. 
Stain- and odor-resistant. 
Rounded handle ensures a comfortable, ergonomic grip. 
Hand wash. 
12" Length. 
CHEFS signature collection of professional-quality cookware, kitchen tools, bakeware, dinnerware and more is meticulously crafted and tested to delight the most discerning cook. 
CHEFS commitment to innovative, functional design is the key to delivering products of exceptional quality, performance and durability for home and professional kitchens.
Join the Discussion
---
Share this Product