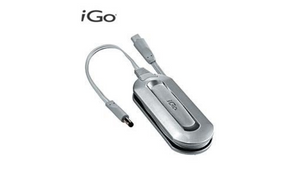 ***FINAL SALE***
Powers multiple devices at one time (2 max)

Replaces a lost or broken charger

No need to wait for one product to charge before charging a second device

No need for multiple chargers

No need for future AC/DC chargers
Universally Compatible
Designed specifically for use with Nokia, Motorola, Sony, Ericsson, Kyocera, LG, Samsung, Nikon, Kodak, Palm One, Compaq/HP, Toshiba, Apple and other leading brands of mobile gear.
Simultaneous Charging For Your Gear - Charge Ahead
Teams up with any iGo power adapter featuring either a dualpower or PPS port to charge two pieces of gear at the same time. Simultaneously charge a notebook & a mobile phone, a digital camera & a PDA or just about any other combination of your gear with this sleek but powerful accessory.
Pick Your iTips Smart Connectors
There are dozens of available iTip smart connectors to power hundreds of the most popular devices. Be sure to grab the ones to charge your mobile gear (sold separately).
Join the Discussion
---
Share this Product