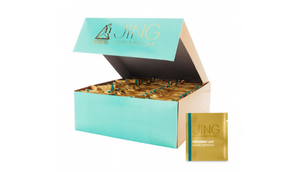 Editor's Note: While these tea bags will taste delicious well afterward, they do carry a "Best Before" Date of 1/5/2019.
JING Tea
HERBAL TEA
Peppermint Tea Bags
Intense, Cool, Refreshing
200 GRAMS / 100 Tea Bags
THE ORIGIN STORY
Our whole Peppermint leaf tea is striking and strong, with a fresh and intense minty flavour. An delicious palate cleanser and a great way to round off a evening meal.
Our whole leaf peppermint tea bags contain the same quality peppermint as the loose version. Packed in our biodegradable tea bags for complete convenience, our spacious pyramid tea bags allow the whole leaves to unfurl and fully infuse for a full-flavoured cup.
Join the Discussion
---
Share this Product