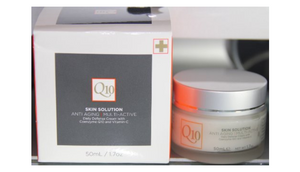 Directions to use: Apply every morning to a cleansed face and neck and after Q10 Serum, massaging in lightly until fully absorbed. also soothes after a Q10 microdermabrasion treatment.
Daily Defense Cream with Coenzme Q10 and Vitamin C
Coenzyme Q10 is an antioxidant and a major energy producer in the body. Research shows that as we age, our natural Q10 levels decline and this contributes to the aging of our skin. formulated using Swiss cosmetic technology, Q10 Skin solution products help to supplement this reduction using a synergistic complex of antioxidizing coenzyme !10 (ubiquinone 50) and Vegetal Squalene that helps to protect cells against free radical damage and fight the signs of aging . Daily long terms use of this multi action formula will help to lift, firm, and soften fine lines for visibly healthier, hydrated and more radiant skin. retinol promotes cellular renewal, reduces lines and improves elasticity. Vitamin C proves antioxidants and regenerating proerties, Swiss Cosmetic Teneology glycosminogycans and Locust Bean gum Seed help skin hold moisture and provide an immediate firming effect.
Join the Discussion
---
Share this Product