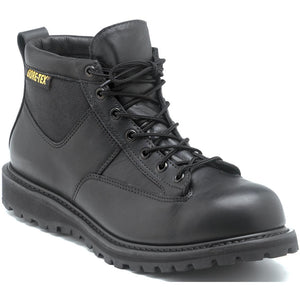 The upper of this Rocky Northern Ops Chukka was constructed with a combination of black full-grain leather and nylon. The panels of nylon are amazingly strong, but the material is lightweight and breathable. The footwear's lace-to-toe design allows your foot to feel secure as you are walking and lets you adjust the fit to your liking. 
GORE-TEX® fabric has been incorporated into this men's footwear. This creates a breathable, waterproof and windproof structure; this extraordinary fabric allows your feet  to remain cool, dry and utterly comfortable. 
Within the interior of this duty footwear there is a Terra Suspension Footbed. This insert will keep your feet blissfully comfortable; it provides cushioning and delivers excellent shock absorption. An AEGIS Microbe Shield® has been applied to the footbed, this treatment will aid in preventing odor, mildew and bacteria from forming within this men's Chukka. 
This Northern Ops Chukka was assembled with Goodyear welt construction; this enhances the footwear's durability, improves its strength and allows you to have to have it repaired easily after it begins to show signs of wear and tear. 
It is uncommon to have an outsole that is as phenomenal as the Vibram®148 Fire and Ice compound outsole that is on the bottom of these men's chukkas. It offers you outstanding flexibility even when you are out in ice-cold temperatures; it gives you fantastic traction when you are walking across wet surfaces, plus it's able to withstand flames and abrasions to keep your feet safe in dangerous working environments. 
When you think about all of its great features, this Rocky Northern Ops Lace-to-Toe Chukka is the perfect choice you. 
GORE-TEX® fabric features revolutionary patented technology that is windproof, waterproof and breathable
Join the Discussion
---
Share this Product