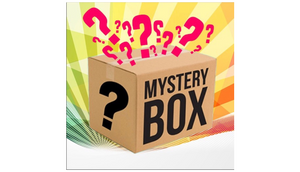 SPECIAL: For every 25 customers who purchase, 1 lucky customer will receive a $18 e-gift card (essentially making your mystery box free)! [To enter to win, you must email us a picture of you with your Mystery Box.]
Our 1st Winner is: Nathan K. from New Albany, OH - CONGRATS NATHAN!
Our 2nd Winner is: Barr N. from Oviedo, FL - CONGRATS BARR!
Our 3rd Winner is: Evelyn R. from Toa Baja, PR - CONGRATS EVELYN!
Our 4th Winner is: Tyler A. from Malvern, PA - CONGRATS TYLER!
Our 5th Winner is...
Our warehouse is cluttered with one-off items that we don't have time to list on our site. So, we've decided to throw a bunch of random items in a box and ship it to you!
Ah, but there's always a catch...
The honor of having a box shipped to you will be just $17.99.
You are guaranteed to receive 10-12 items per box.
To make things better, if you're really unhappy with your order just contact us and we'll try 'n work things out (we always do)...
So you in for a warehouse clutter surprise this holiday season?
(
Note to Self
:
Prep mentally for $1-$2 items and you'll be happy with what you receive. If you think your getting a MacBook for $17.99...this mystery box is not for you 😂
)
Join the Discussion
---
Share this Product